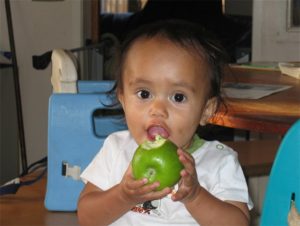 When I discovered I was pregnant with little Miss Te Rangi, I had alot of thoughts going through my head – including that I'm not ready to have another child, since I already had a 10 month daughter.
When I was nearly three months pregnant, I ended up in hospital for two weeks as a result of finding out my baby had a twin – but that the twin was not growing. The doctor said there was a 20% chance of survival for my daughter, so I decided to proceed with the pregnancy. As the months got closer and closer, I finally got my head around the fact I would be a mother again.
I went past my due date by 2 days and had my beautiful baby girl at 1.46am on Wednesday 25 November 2009.
Te Rangi is born
As the first month went by, my baby was health and gaining weight. But as the second month approached, I felt she was getting sick. She had breathing problems, which I thought was because of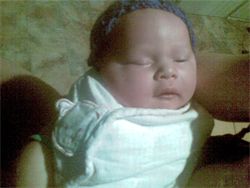 the cold. But that was not the case. Te Rangi started going bright red and blue around the lips, but the doctor said that it was just a common cold and that she would be ok in a couple of days. Two days later, she was still having problems, so I took her back to the doctors – but the same thing happened, I was told she had a common cold and was sent home.
That same night, we had to ring an ambulance as she was going blue around the mouth and starting to have spasms. Her grandparents were very worried about her, but when the ambulance arrived, she was sleeping and they told us not to worry because her chest and airways were clear. But the next day, she started going blue again and this time she started to freak my Nan and my cousins who were staying with me.
We rushed her to Middlemore hospital and were told that she had Whooping Cough and bronchitis. In the space of an hour, my baby's oxygen levels had dropped from 100% to 77%. I was scared I was going to lose her and I was planning for the worst. But after a week in hospitals with tests after tests after tests, my baby was discharged. I was told to take her back if the spasms started again.
Months went on, and problems happened – one thing after another. It started with breathing issues, then skin and weight problems. Then, at the age of 10 months, my daughter contracted Rotorvirus and ended up in Middlemore hospital on drips and Pedilyte. Her tiny body cleaned everything out of her system, and then she started drinking formula.
As a baby, she'd only had breast milk and when we tried to put her on formula, she refused and screamed. She didn't crawl or pull herself up off the ground. But when she got sick, she started drinking formula, gaining weight and eating proper meals.
She is now 15 months and walking and trying to talk. I turned my life to God and when I started going to church, my prayers started being answered and my daughter started gaining weight and getting bigger. I was blessed by god and have also met the amazing Grant family who prayer for my daughter as well. The Grant Family have become our extended Family in God's view and mine. I cannot thank them enough for the love and support they have given me and my 3 girls.